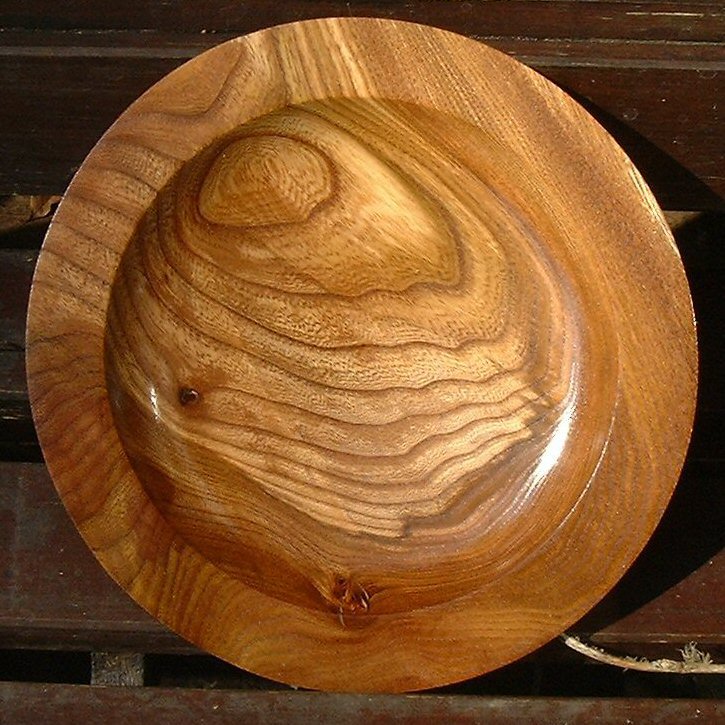 I don't pretend to be anything other than an average amateur turner. I love my turning, but I have never felt the need to develop my skills to a point when I didn't need my multi-faceted turning tool (ie abrasive!). I can turn a bead with a skew in the privacy of my own workshop, but cannot make a series of beads the same size along a piece of wood without a beading tool. There, I've admitted to all and sundry that I cheat!
I try to turn work that I enjoy and that I would like to keep. There is nothing special about my traditional turning, but I have found a couple of useful tips along the way as a result of numerous disasters and here they are, if you are interested.
Making sure there is no bump in the bottom of a bowl or platter.
I make a lot of very thin bowls / platters in dry timber. The technique for getting thin walls is the same as you would use on wet wood – you do a small section right down to the thickness you want and then do the next one. You never try to go back or you will get chatter (or shatter!!!).
As you progress down the sides of the bowl, you need to keep a hefty amount of wood in the centre over the chuck to give you stability and stop the work from flexing and changing shape.
The reason I use dry wood is so that the final shape will be stable and will not warp enough to notice visibly.
There is a temptation to remove the centre when you get to it and carry on making the curve from where you have got down the side.
As I worked towards the centre of a piece I noticed I would be twisting – but the centre of the twist was not the centre of the bowl – thus leaving a bump in the centre.
I found that if I took off the waste support material flat (ie parallel to the rest) and then started to generate the curve from the centre of this flat area, gradually moving the cut further out, I got a much better curve, and when I reached the edge of the flat, I would have one final cut, the same thickness all the way that blended the 2 curves together.
Perhaps a picture will help: